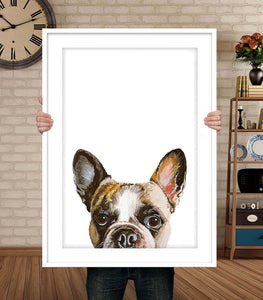 PetPortraitsWorld
Peekaboo Dog Portrait Custom
Regular price
$59.00
$0.00
Unit price
per
   How it works ?
- Upload your pet photo using the upload button on the product page. 
- Add to cart and place your order.

If you have any questions just write to us in the live chat and we will answer you as soon as possible!

All my paintings are original watercolor portraits.

-If you want me to make a custom pet portrait for you, buy a portrait in the shop and send me a photograph or several pictures of your pet.
-I only use high quality materials. Paintings will be shipped in a thick cardboard envelope between thick pieces of cardboard.
As a professional artist it is important to use the highest quality art materials available so that my portraits can last through generations. For my colored portraits I use a mixed selection of pants and pencils for the best color palette and use of light-fast materials; I use Winsor & Newton paints. The paper I use is french Arches Aquarelle and Italian Fabriano artistico/classico 360 gm hot pressed 140 lb paper which is acid-free and archival museum rated.
- You can order individual size.

- Frame is not included.
- I accept and love working with any kind of pet: dog, cat, kitty, horse, bunny and others.

- Happy to work with your deadlines! Contact me for rush orders.

Please contact me if you have specific questions about a portrait for your pet.

Thank you !

She Loves it!
My daughter absolutely loved the pictures of her two dogs! Nice job!
Amazing
I've had a few small portraits done by this artist and this time I went big - the 16x20 peek-a-boo portrait. Incredible. Outstanding. I may get one done for my dog that passed away. Highly recommend, this artist's talent is out of this world. Thank you!!
Beautiful (My second piece)
This is my second painting I have ordered, and we LOVE both pieces. They are unique and really well done. The only small criticism I have is that it was impossible to get in contact with the artist. When I bought the first painting he was selling on Etsy, and he replied quickly to my questions. When I went to buy my second one he had moved his art to his own website, which is really well laid out. But unfortunately, I could never get in contact with him via that site even though it has a little icon on the bottom that says you can chat with him. It says he responds immediately, but I never got a response and I tried several times. So that is the only complaint that I have. The artwork is beautiful and we will love them forever. I would only suggest actually communicating with your customers. It can be a little frustrating when we cannot get answers to our questions. It is a minor complaint and is easily rectified. Other than that, I have bragged about these two paintings to everyone I know!
Wonderful!
This is the second peekaboo picture I have ordered and it is a perfect likeness of my daughter's dog, Otis. Thank you!
---